Bookworm's Bonanza – Lavenham Children's Book Festival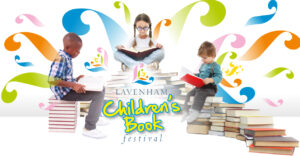 We hope that you are all safe and well. Lavenham Literary Festival is taking a new and exciting turn this year. Instead of holding our Children's Book Festival in the village in October, we are launching our virtual festival online. It will be available to absolutely everyone all over the world for the next few months and completely free to use. The site is full of engaging content to keep the children occupied and having fun over the summer holidays and beyond.

Please click on the normal link www.lavenhamliteraryfestival.co.uk to find a packed programme for all ages with readings, how-to-draw videos, quizzes, making and baking and so much more. All our extra-special authors who would have visited the festival are represented here and some of the content is made especially for us. Michael Morpurgo is interviewed by Clare Mulley and reads from some of his work. Zeb Soanes and James Mayhew are back with more stories about Gaspard the Fox, with music from Chris Warner, and Rob Starling returns with Fergal the much-loved dragon. Anne-Marie Howell tells us about her tales of mystery set in and around Bury St Edmunds. Shoo Rayner, a regular visitor to the children's festival, has a new book out about Walker the boy who can talk to dogs, Charlotte Sebag-Montefiore will turn you into an expert on dinosaurs.

Our next Main Festival is scheduled for 19-21 November 2021 and details will be circulated in due course. There will be no Festival Dinner this year, however we are delighted to say that the Rt. Hon. Alan Johnson will be our Guest of Honour on Friday 19 November 2021.

Meanwhile have fun with Bookworms' Bonanza! Do spread the word, and please get in touch with any feedback, questions or comments.to info@lavenhamliteraryfestival.co.uk.