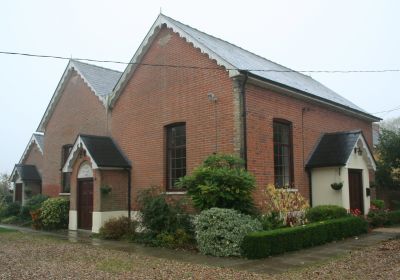 A small Congregational Church was built on the site in 1842, in 1860 the size of the church was doubled & in 1868 the school room added to educate the children of those families who didn't belong to the Anglican Church. Prior to this the non-conformists met in various houses throughout the village. The church has its own grave yard, but as an unfortunate sign of Victorian times, by the 1890s it was completely full.
Congregationalism follows the teaching of the New Testament & believes each local church is completely autonomous under the headship of Jesus Christ. Our spiritual ancestry can be traced back to the Brownists of the late 16th century. We are members of the Evangelical Fellowship of Congregation Churches which is a group of 120 churches throughout the UK, but there is no denominational hierarchy dictating how the church should be run.
The church served the village for 150 years but in the early 1990s attendance dwindled & the decision was made to close it. Fortunately in 1995 the current minister, Pastor Gordon Hold MA, was looking to start up a church in the Bury St Edmunds area having just returned from preaching in Dundee, & he applied to the EFCC to reopen the building, just as they were about to sell the plot on the open market.
Extensive renovation work was carried out to modernise the interior of the building, including the installation of central heating but the Victorian exterior was kept the same & the replacement doors & windows matched the originals. Requests for donations to help with the restoration were prayerfully made without any begging letters or fundraising events, & sufficient funds were donated to enable the work to be completed. A display of the renovation work can be seen inside the church. The old school room now serves as the church hall.
The congregation of around 20 Christians meet every Sunday at 10.30am & a Bible  Study is held every Thursday morning at 10.30am, anyone is welcome to come along to either service. We have a good relationship with Cockfield Anglican Church & hold joint services with them.
Contact:      Pastor Gordon Hold MA congregational.church@cockfield.org.uk
Service Times:    Sunday Morning 10.30am         Bible Study: Thursday Morning 10.30am