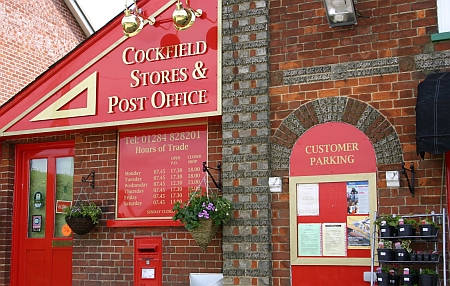 Please note that until further notice the Post Office & Stores will be closed from 12.30 to 2 pm
01284 828201
Open: Mon, Tue, Thur, Fri: 07.45 am to 6.00 pm
Wed & Sat: 07.45 am to 1.00 pm
(POST OFFICE CLOSES SLIGHTLY EARLIER)
Make the most of the services available to you at your local shop and Post Office.
ALL MAJOR CREDIT/DEBIT CARDS ACCEPTED.
We can top up your mobile, recharge electric keys, take bill payments, sell you Euros, offer cash back and cash withdrawals, provide information on insurances, credit cards and savings products to name but a few.
We have an off-licence, news and magazines, D.I.Y. stationery and animal foods.
Along with your usual grocery needs, we specialise in Suffolk ham, Lavenham's fresh bread, Rattlesden's eggs, Maynard's apple juice, Len Smith's honey and our very own Ralph's sandwiches, quiche and preserves.