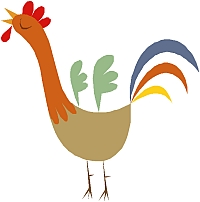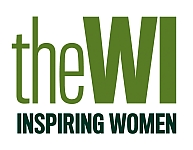 Welcome to the Cockfield WI web page!
Cockfield WI is a member  of Suffolk West Federation of WI's and is affiliated to the National Federation of Women's Institutes, NFWI, the largest women's organisation in the UK. Members come from Cockfield and several neighbouring villages.
We are a friendly group and new members and visitors are  warmly welcomed.  Our members come from all walks of life and although some of us are retired , we have a young outlook on life and many varied interests. Between us we have a huge skills bank to draw on including law, education, finance, catering, gardening, Science,  child-care  and nursing. 
Meetings  are normally held on the first Thursday of the month in Cockfield village hall, and usually consist of a talk or demonstration on a variety of subjects, followed by WI news and information about upcoming events. We have regular clubs such as Book Club, Craft and Canasta. In addition, country walks and work shops run by  members such as quilting, cookery , flower arranging and Christmas Wreath making are held throughout the year. A cup of tea or coffee with home made cake is always on the agenda at our monthly meeting!
Adult education is also on offer at Denman College in Oxfordshire, the WI's own college. A huge range of courses are on offer, to both members and non-members.
There is something for everyone at our WI so if you are new to the village and want to make friends or would just like to find out a bit more about us, please contact us via the website or by calling our secretary Andrea Hartshorne on 827446
For more information please email: JavaScript must be enabled to view this email
---
WI October 2018

Celebrations are in the air ! Preparations for our Cockfield W.I. 90th birthday next year are quietly being put together, whilst one of our youngest members has recently become engaged and will shortly be leaving us to start a new life with her future husband in the USA . We wish you all the happiness that life can bring Ashley, you will be very much missed by us all.
This month was an open meeting and we were joined by husbands, partners and friends to be entertained by Tracey Mackness, owner of the Giggly Pig Sausage Company.
Tracey has always had a flair for business, if not in her early years, all of it legal. She started work as a youngster on her dad's fruit and veg stall in Romford Market in the 1970's. By the time she was a teenager and preferring graft to going to school, Tracey had fallen in with a fast crowd and spent much of the next 15 years ducking and diving, and partying.  Eventually this way of life lead to her being imprisoned for 10 years.
At this low point in her life, Tracey realised she needed to change and worked on becoming a model prisoner. She studied hard, taking 52 courses ranging from mentoring and self improvement to physical training .
This culminated in Tracey being moved to an Open prison, where very much against her initial will , she was charged with 'operating' the prison piggery .It was here that she met Rodney , the pig that changed her life .
Tracey's love for Rodney lead to a qualification in Pig Husbandry and gave rise to her dream of owning a business to produce top quality sausages.The Giggly Pig company was formed on her release from prison and has gone from strength to strength  producing over 32 different flavoured sausages and pork products at her own shop whilst also attending farmers markets (including Bury St Edmunds) and providing for events catering.
Tracey  brought tasting samples to the meeting , whilst some vegetarian food was provided by members for those who don't eat meat. It was good to see so many people, members and non-members enjoying the talk, each others company and the delicious food.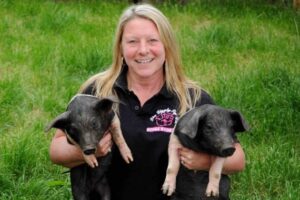 Our speaker next month is Karen Kenny. Karen is a hugely knowledgeable organic gardener, whom some of you may have heard on radio Suffolk.Her talk this month is about Christmas Traditions. If you think you would like to come, please contact Andrea Heartshorne on 827446
We look forward to seeing you!
Further details and lifts, if required, from JavaScript must be enabled to view this email.
Programme of Events 2018-19
| Meeting date | Talk | Speaker |
| --- | --- | --- |
| 7th June 2018 | Who gets Granny's Spoons? Inheritance & Wills | Marie Brown |
| 5th July 2018 | Doxa Project, bringing hope & education to families in Nakuru, Kenya | Ray Balmer |
| 2nd August 2018 | Tudor Fashion | Jacquie Norman |
| 6th September 2018 | Eco Frenzy | Anthony Whittingham |
| 4th October 2018 | How the business of supplying sausages & hot roasts began | The Giggly Pig |
| 1st November 2018 | Gardening Talk | Karen Kenny |
| 6th December 2018 | Cheese sampling with wine | The Suffolk Cheese Company |
| 3rd January 2019 | Cinema Night | 'Some Like It Hot' |
| 7th February 2019 | Beekeeping | Alan Seager |
| 7th March 2019 | Sudbury Water Meadows | Adrian Walters |
| 4th April 2019 | Mercy Ships (Hospital Ship) | Jill Stevens |
| 2nd May 2019 | Annual Meeting, Resolutions & Social Time | |