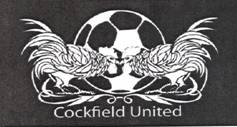 Cockfield has been represented by a football team since pre World War 2, according to local historians the site for the home ground had been moved around the village, with one site being on 'Clarence's' meadow at the junction of Howe Lane and Colchester Green Lane, before settling on Great Green. For many years we were members of Bury and District Football League until 1999 when we took a step up into the Suffolk and Ipswich League. This move was a good one and rapid progression saw us move through the leagues, even enjoying a brief stint in the Senior Division. During this time we were also successful in the Suffolk Cups coming out as Suffolk Junior Cup Winners in the 2002/03 season and making it to the Semi Final of the Senior Cup in 04/05. We have also had two stints of being represented by a Sunday side in the Bury and District League, again both stints were very fruitful in terms of silverware including the Suffolk Sunday Trophy in 2011/12. We have also recently started a Veterans side in the Norfolk and Suffolk League with many familiar local faces coming back to play for the club.
Back into the present and the 2019/20 season, a season that has been dominated more by events off the pitch than on it. For us the season started very positively with the news that we had been awarded Charter Standard Status by the FA (this is an accreditation to show a good standard of club administration and standards).
On the pitch the First Team in Division 2 were having a solid season sitting in 7th place, but with several games in hand on those ahead of them before the season was curtailed. The Reserves had been promoted into Intermediate A, the highest reserve league at this level, and ultimate found it a struggle to adapt to the higher level of football, although by the time season was curtailed we were starting to pick up results. The Veterans, although not playing many games, had a good season and had made it to two cup semi finals when the season was halted.
---
Looking forward to next season we will be running four teams for the First time in our history when the Sunday side restart, so if there is anyone interested in joining the club, in either a playing or other capacity please don't hesitate to contact us. You can reach us either through social media Twitter – @CockfieldU or Facebook – Cockfield Fc, or by contacting the club Secretary at football@cockfield.org.uk.