What's Happening in and Around Cockfield
Choose how you want to view events:
Click an event to see the event detail if available
Click the Month button to choose a different view of the calendar.
Click the category drop down arrow to view to only those events in the selected category (more than one category can be selected or de-selected to arrive at the chosen view)
Please email enquiries@cockfield.org.uk if there is a local event you would like included in the calendar, or if you spot an error.
Area Events
If you are organising an event on a larger scale – perhaps a fete for example – and you want to avoid a date clash, check the Heart of Suffolk website, which lists many events taking place in the area.
Sep
12
Sat
Suffolk Churches Ride & Stride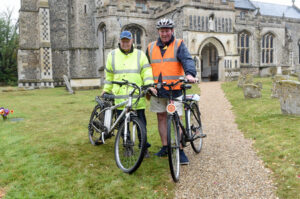 Norman Gregory (98, WW2 Bomber command, Legion d'Honneur) and Norman Kelly (a mere 70, retired Tea Planter) are participating once again in the annual Suffolk Historic Churches Trust (SHCT) Bike Ride to raise funds for the charity which provides invaluable support to maintain our beautiful Suffolk Churches. 50% of the money raised goes to maintaining St Peters Church Cockfield.
Both Normans have sponsorship forms and a fundraising site
https://www.justgiving.com/fundraising/thecockfieldnormans
However, if you would prefer to donate by cash or cheque, please contact Norman Kelly, 01284 828904 or 07817 242294