What's Happening in and Around Cockfield
Choose how you want to view events:
Click an event to see the event detail if available
Click the Month button to choose a different view of the calendar.
Click the category drop down arrow to view to only those events in the selected category (more than one category can be selected or de-selected to arrive at the chosen view)
Please email enquiries@cockfield.org.uk if there is a local event you would like included in the calendar, or if you spot an error.
Area Events
If you are organising an event on a larger scale – perhaps a fete for example – and you want to avoid a date clash, check the Heart of Suffolk website, which lists many events taking place in the area.
Jul
17
Sun
Sale Trail
Jul 17 @ 09:00 – 13:00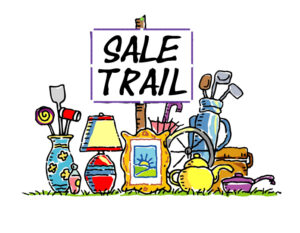 Cockfield Community Council Presents
Sale Trail
Sunday 17th July, 9 a.m. to 1 p.m.
This is a great opportunity for you to get rid of those unwanted items you've accumulated and to raise some money for yourselves and the Community Council. You set up your stall at the front of your property or on Great Green (weather permitting) and we provide a map showing where you are.
If the prevailing conditions on Great Green do not allow for cars to be parked there the Village Hall car park will be used as an alternative.
PLEASE NOTE: WE CAN ONLY OFFER STALLS ON GREAT GREEN IF WE HAVE ENOUGH PARTICIPANTS TO MAKE IT VIABLE. IF WE DO NOT HAVE ENOUGH REQUESTS FOR GREAT GREEN, STALLS WILL BE LOCATED AT YOUR GIVEN ADDRESS
Notes;
Cockfield Community Council will not bear any responsibility for any loss, injury or damage incurred to visitors or participating residents at any time, please check your individual Household Insurance Policy prior to booking.
The Community Council has the right to cancel the Sale Trail in the event of or likelihood of severe inclement weather
All tables and chairs must be provided by participants
Registration
To participate as a seller, please complete the form below. All bookings will be confirmed. To complete your registration please make your payment of £5  either at the Post Office, or via the following BACS  details:
Account name: Cockfield Community Council
Sort code: 60-04-16
Account no: 87598124
Reference: ST2021
Please register not later than Saturday 9th July to guarantee your place on the map.
Taking Part
A map showing participating properties will be available from the Post Office from Wednesday 13th July.
Summer Lunch

@ Chapel Road, Cockfield
Jul 17 @ 12:30
Jul
22
Fri
Cockfield Cinema – Death on the Nile

@ Cockfield Village Hall
Jul 22 @ 19:00
Arrangements for the cinema are as follows:
pay at the door – no advanced reservation required
seating will be set out in theatre style rows to our maximum capacity. This should create enough room for attendees to space themselves out if they wish
a face covering is no longer a legal requirement. Please respect those who still prefer to wear a face covering.
there will be tea, coffee and a bar service
there will be a raffle in the interval
Doors open 7pm, screening starts 7.30
July 27th – Death on the Nile
Belgian sleuth Hercule Poirot's Egyptian vacation aboard a glamorous river steamer turns into a terrifying search for a murderer when a picture-perfect couple's idyllic honeymoon is tragically cut short. Set against an epic landscape of sweeping desert vistas and the majestic Giza pyramids, this tale of unbridled passion and incapacitating jealousy features a cosmopolitan group of impeccably dressed travellers, and enough wicked twists and turns to leave audiences guessing until the final, shocking denouement.
Running time 127 mins, rated 12A
Any changes to applicable guidelines will be communicated to attendees.
Any queries please contact us on cinema@cockfield.org.uk
The Cinema Team