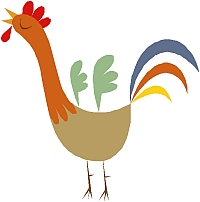 Cockfield WI is part of the Suffolk West Federation of WI's and is affiliated to the National Federation of Women's Institutes, NFWI, the largest women's organisation in the UK. Members come from Cockfield and several neighbouring villages.
Meetings are normally held on the first Thursday of the month in Cockfield village hall, and usually consist of a talk or demonstration on a variety of subjects. There is also time to hear about other WI events, and to share in a chat and refreshments. Other activities include craft and book groups, cycling and walking, and community events.
Adult education is also on offer at Denman College in Oxfordshire, the WI's own college. A huge range of courses are on offer, to both members and non-members.
Visitors are always welcome. Come and see what we have to offer.
For more information please email: JavaScript must be enabled to view this email
---
December Meeting Report

For December's meeting we were lucky enough to be joined again by Richard Burr of 'Great British Bake Off' fame. A large audience awaited Richard's demonstration of a beautiful sausage meat round with cranberry chutney and it wasn't long before the hall was filled with delicious smells. Whilst cooking, Richard shared more of the behind the scenes secrets of the Bake Off series.
The contestants from series five have remained firm friends and meet up as often as their hectic schedules will allow. They have formed a group and as part of that select few they will be taking part in next year's London marathon to raise money for Great Ormond Street Hospital. Although Richard dashes from one event to the next, (he was in London the night before coming to us, attending yet another charity event where he rubbed shoulders with actor Robert Powell and his wife) he still finds time to undertake building projects and offer advice, whether on baking or building!
Insights into the many 'runners' from the production crew (trying to stay out of camera range) and the poor person who spends all their time up to their elbows in soapy suds (no dishwashers allowed due to the interference they cause with the filming equipment). There's so much that goes on behind the scenes …Mary Berry's deck chair and hot water bottle … !
During the Bake Off process, each week Richard's wife Sarah and their children tested and commented on his creations, giving Richard help on how to improve each dish. The call to test yet another cake sometimes fails to pique the children's interest now but the sausage meat round always brings them running.
At January 's meeting, we will be having a Members' Talent Evening where some of our members will be sharing their talents and skills with us.  This meeting is on Thursday 4th January 2018 at 7.30pm in the Village Hall. Please contact Ashley on 828264 for information.
Further details and lifts, if required, from JavaScript must be enabled to view this email.
Calendar of Events 2017-18
| Meeting date | Talk Title | Speaker Name |
| --- | --- | --- |
| 1st June 2017 | History & Future of the RNLI | Geoff Heathrock |
| 6th July 2017 | Friends & Foes in the garden | Karen Kenny |
| 3rd August 2017 | Lavenham walk & tea at Fran's | Fran Bradshaw |
| 7th September 2017 | Medical Detection Dogs | Norma Howell |
| 5th October 2017 | Humorous Etymologies | Anthony Poulton-Smith |
| 2nd November 2017 | Life of a Racehorse | Geoff Evans |
| 7th December 2017 | Cookery Demonstration | Richard Barr |
| 4th January 2018 | Members' Talents evening | |
| 1st February 2018 | The Doxa Project | Ray Balmer |
| 1st March 2018 | Sudbury Water Meadows | Adrian Walters |
| 5th April 2018 | The Printer's Darkroom | Alan Bardolulou |
| 3rd May 2018 | Annual Meeting, Resolutions & Social Time | |