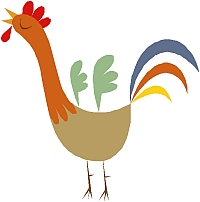 Cockfield WI is part of the Suffolk West Federation of WI's and is affiliated to the National Federation of Women's Institutes, NFWI, the largest women's organisation in the UK. Members come from Cockfield and several neighbouring villages.
Meetings are normally held on the first Thursday of the month in Cockfield village hall, and usually consist of a talk or demonstration on a variety of subjects. There is also time to hear about other WI events, and to share in a chat and refreshments. Other activities include craft and book groups, cycling and walking, and community events.
Adult education is also on offer at Denman College in Oxfordshire, the WI's own college. A huge range of courses are on offer, to both members and non-members.
Visitors are always welcome. Come and see what we have to offer.
For more information please email: JavaScript must be enabled to view this email
---
WI July 2018

This month at WI we have had the usual clubs; book club, craft club, Canasta and iPad. In addition, some of us have been working on plans for Cockfield WI's 90th birthday celebrations next year and others have been busy making cakes to help raise funds for Cockfield Primary School Summer Fair. Over the coming weeks we have several events for all ages; a walk around Stanningfield on 8th August – dogs and children are welcome, in September we have Sports Week, a walk around the Rougham Estate and a Boots Beauty night complete with a glass of bubbly! So if you fancy a make-over, would like to try out a new sport or would just like a nice piece of home-made cake and a cup of tea whilst learning something new from one of our visiting speakers at the monthly meeting, feel free to come and join us!
Our speaker at this month's meeting was Ray Balmer from the DOXA Project, a charity that works with people from one of the poorest areas in Kenya.
Ray is the right hand man to Ben Ryan, the founder of DOXA. Ben first went to Kwa Murugi, a slum area of Nakuru in 2010 and he thought, it doesn't have to be like this. From this, the DOXA project, whose motto is 'See a need, Believe in change, Achieve a goal', was born.
Ray explained that DOXA aims to provide a way out of poverty and the cycle of deprivation, alcohol, drugs and prostitution that is the only option for many children living in the slum areas of Kenya. Statistically 90% of slum inhabitants are hungry, consequently education is not a priority for many families.
He told us that DOXA takes a holistic approach, providing education, job opportunities and training to build sustainable, whole communities. There have been many projects including child education, weekly food distribution schemes, mosquito nets to prevent infant deaths from malaria, water filtration units to prevent waterborne diseases, computer classes for children and small business start ups such as providing a sewing machine for women to make their own sanitary protection.
One of the more ambitious projects was to provide an entire new school. In 2013 DOXA purchased land and using local labour and resources they built the school, complete with furniture, books and uniforms for the pupils. The school now belongs 100% to the community, a mini bus provided through fund raising completed the project in 2016.
Ray told us that he and the rest of the team based in the UK are volunteers, they pay their own expenses and do everything in the most economical way, so that maximum benefit and support goes to the community of Kwa Murugi. He advised that future projects included family planning and work to prevent the spread of HIV, which he said, affects many families.
I think that we all felt a little humbled at the end of Ray's talk, the efforts made by the DOXA team to bring education and hope to the community of Kwa Murugi are truly inspiring.
Next month we will be joined by Jacquie Norman who will be entertaining us with a talk on the Fashion in the Tudor period with dress mannequins and audience participation!
This meeting is on Thursday 2nd August at 7.30pm in the Village Hall. New members are always welcome and if you have any questions, please contact Andrea Hartshorne on 01284 827446.
We look forward to seeing you!
Further details and lifts, if required, from JavaScript must be enabled to view this email.
Programme of Events 2018-19
| Meeting date | Talk | Speaker |
| --- | --- | --- |
| 7th June 2018 | Who gets Granny's Spoons? Inheritance & Wills | Marie Brown |
| 5th July 2018 | Doxa Project, bringing hope & education to families in Nakuru, Kenya | Ray Balmer |
| 2nd August 2018 | Tudor Fashion | Jacquie Norman |
| 6th September 2018 | Eco Frenzy | Anthony Whittingham |
| 4th October 2018 | How the business of supplying sausages & hot roasts began | The Giggly Pig |
| 1st November 2018 | Gardening Talk | Karen Kenny |
| 6th December 2018 | Cheese sampling with wine | The Suffolk Cheese Company |
| 3rd January 2019 | Cinema Night | |
| 7th February 2019 | Beekeeping | Alan Seager |
| 7th March 2019 | Sudbury Water Meadows | Adrian Walters |
| 4th April 2019 | Mercy Ships (Hospital Ship) | Jill Stevens |
| 2nd May 2019 | Annual Meeting, Resolutions & Social Time | |