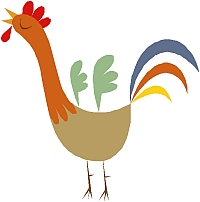 Cockfield WI is part of the Suffolk West Federation of WI's and is affiliated to the National Federation of Women's Institutes, NFWI, the largest women's organisation in the UK. Members come from Cockfield and several neighbouring villages.
Meetings are normally held on the first Thursday of the month in Cockfield village hall, and usually consist of a talk or demonstration on a variety of subjects. There is also time to hear about other WI events, and to share in a chat and refreshments. Other activities include craft and book groups, cycling and walking, and community events.
Adult education is also on offer at Denman College in Oxfordshire, the WI's own college. A huge range of courses are on offer, to both members and non-members.
Visitors are always welcome. Come and see what we have to offer.
For more information please email: JavaScript must be enabled to view this email
---
March Meeting Report

Cockfield WI was 88 years old in March and to celebrate we were treated to a delicious piece of birthday cake, made by Sylvia and beautifully decorated by Jenny. Visitors and new members were welcomed to the meeting.
An assortment of interesting courses and trips are coming up for members in the next few months – including a table tennis competition being held in the village hall and a river trip to the Henny Swan for afternoon tea.
A few members wore handmade jumpers to complement the theme of this evening's speaker – Becky Poynter from Yarnsmith.co.uk, a company which provides a cornucopia of yarns, threads, designs and ideas.
We were guided through a short history of patterns and styles of yesteryear – some of which raised murmurs of recognition and much laughter! Photos of some of the things we used to knit were highly amusing!!  Becky's presentation also included pictures of beautifully knitted Christening gowns and knitted silk thread garments from the 17th century. It's amazing what intricate designs can be created using some needles and yarn.
We were also advised of some of the many animals and plants from which yarn can be derived. Some of the more unusual 'suppliers' are camels, possums, banana fibre and amazingly – milk, all of which produce beautifully soft garments.
One of the tips Becky offered was that if you suffer from arthritis or sore joints you should try using bamboo or wooden needles rather than metal. One member has already tried this and has found it beneficial. Becky also highly recommends round needles for heavy knit items as the weight of the garment is resting in your lap rather than your shoulders bearing the weight.
The 'Knit 1, Pass it on' initiative has been designed for schools to encourage youngsters into this interesting and varied past time. A most enjoyable evening which left most of us itching to get home and dig out the half-finished knitting some of us have tucked away!
At April's meeting, we will be joined by Colin Wilkinson who will be giving his talk about The Jubilee Sailing Trust. Our next meeting is on Thursday 6th April 2017 at 7.30pm in the Village Hall. Please contact Sue Cole on 828212 for information
Further details and lifts, if required, from JavaScript must be enabled to view this email.
Calendar of Events 2016-17
| Meeting date | Talk Title | Speaker Name |
| --- | --- | --- |
| 2nd June 2016 | Thai cooking demonstration and tasting | Mrs Siri Sang |
| 7th July 2016 | Garden Visit to Water End Cottage in Cockfield | Garden Meeting |
| 4th August 2016 | Silk from China to Sudbury | Richard Humphries |
| 1st September 2016 | Illustrating Childrens' Books | Cee Biscoe |
| 6th October 2016 | Fingerprinting | Dave Smith |
| 3rd November 2016 | Heavenly Bodies | Derek Langley |
| 1st December 2016 | Britain's Finest Hour. This will be an open meeting. | Joyce Kimber |
| 5th January 2017 | Boom & Bust in Medieval Lavenham | Jane Gosling |
| 2nd February 2017 | How I Became A "Bake Off" Finalist | Richard "The Builder" Burr |
| 2nd March 2017 | Yarn about Yarn - History of knitting and yarn | Becky Poynter |
| 6th April 2017 | The Jubilee Sailing Trust | Colin Wilkinson |
| 4th May 2017 | AGM | |