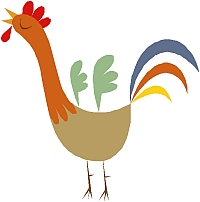 Cockfield WI is part of the Suffolk West Federation of WI's and is affiliated to the National Federation of Women's Institutes, NFWI, the largest women's organisation in the UK. Members come from Cockfield and several neighbouring villages.
Meetings are normally held on the first Thursday of the month in Cockfield village hall, and usually consist of a talk or demonstration on a variety of subjects. There is also time to hear about other WI events, and to share in a chat and refreshments. Other activities include craft and book groups, cycling and walking, and community events.
Adult education is also on offer at Denman College in Oxfordshire, the WI's own college. A huge range of courses are on offer, to both members and non-members.
Visitors are always welcome. Come and see what we have to offer.
For more information please email: JavaScript must be enabled to view this email
---
WI June 2018

Our June meeting was taken by our new President, Sue Cole, and after the first part of business and distributing the birthday posies Sue introduced our speaker for the evening, Marie Brown of Inheritance Legal Services Limited, the head office of which is in Cambridge, with her talk entitled 'Who Gets Granny's Spoons?'.
Marie talked about various legal documents and procedures including Wills, Powers of Attorney, Inheritance Tax and Estate Planning. She answered questions from the floor and covered a few areas of the law that have changed since members may have first arranged any of these documents. A very informative talk which highlighted and covered possible areas of concern for our members. Inheritance tax banding, the changes to an Enduring Power of Attorney if it was drawn up prior to 2008, how much you can gift to your family and how long you need to survive in order that Inheritance Tax does not need to be paid. Marie told us many interesting facts and figures in relation to this interesting subject. Many more items were covered and the offer of free information packs and no obligation consultations at a later date had members flocking to Marie's table after the talk. A very interesting and thought-provoking evening with something for everyone.
After the talk, business was concluded and information provided on future planned events. One such event is a Cream Tea at the Pavilion on Great Green on Sunday 15th July. All are welcome.
At July's meeting we will be joined by Ray Balmer who will speak about the The Doxa Project which seeks to bring hope and education to the children and their families of Kwa Murugi in Nakuru, Kenya. This meeting is on Thursday 5th July 2018 at 7.30pm in the Village Hall. New members are always welcome and if you have any questions, please contact Andrea on 827446. We look forward to seeing you in June!
Further details and lifts, if required, from JavaScript must be enabled to view this email.
Calendar of Events 2017-18
| Meeting date | Talk Title | Speaker Name |
| --- | --- | --- |
| 1st June 2017 | History & Future of the RNLI | Geoff Heathrock |
| 6th July 2017 | Friends & Foes in the garden | Karen Kenny |
| 3rd August 2017 | Lavenham walk & tea at Fran's | Fran Bradshaw |
| 7th September 2017 | Medical Detection Dogs | Norma Howell |
| 5th October 2017 | Humorous Etymologies | Anthony Poulton-Smith |
| 2nd November 2017 | Life of a Racehorse | Geoff Evans |
| 7th December 2017 | Cookery Demonstration | Richard Barr |
| 4th January 2018 | Members' Talents evening | |
| 1st February 2018 | 'My Life as a Registrar' | Yvonne Drake |
| 1st March 2018 | Sudbury Water Meadows | Adrian Walters |
| 5th April 2018 | The Printer's Darkroom | Alan Bardolulou |
| 3rd May 2018 | Annual Meeting, Resolutions & Social Time | |