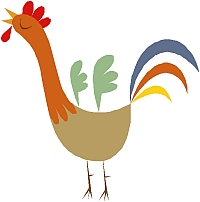 Cockfield WI is part of the Suffolk West Federation of WI's and is affiliated to the National Federation of Women's Institutes, NFWI, the largest women's organisation in the UK. Members come from Cockfield and several neighbouring villages.
Meetings are normally held on the first Thursday of the month in Cockfield village hall, and usually consist of a talk or demonstration on a variety of subjects. There is also time to hear about other WI events, and to share in a chat and refreshments. Other activities include craft and book groups, cycling and walking, and community events.
Adult education is also on offer at Denman College in Oxfordshire, the WI's own college. A huge range of courses are on offer, to both members and non-members.
Visitors are always welcome. Come and see what we have to offer.
For more information please email: JavaScript must be enabled to view this email
---
WI April 2018

After cancelling our March meeting due to poor weather, over three quarters of members attended to welcome our speaker and his wife for the evening. Prior to the evening's business we thanked Brenda Cantlay for making our birthday cake (89 years!) and our newest member Trudy Mann made the first cut.
One of the recently arranged visits was to the Great War Huts at Hawstead. A most surprising and informative trip which was thoroughly enjoyed by all who attended.
We had quite a lot of business to get through but afterwards we settled down to listen to Alan Bardouleau's talk on 'The Printer's Darkroom'.
Alan started by setting the scene back in the 1950s where he was encouraged to follow in his father's footsteps and start an apprenticeship as a photo engraver at a block making company in Farringdon Street, London. Alan was trained to use the huge photo engraving camera equipment that was required before progressing in time onto 35mm film. The processes that were used when Alan started were the same as those used in 1835.  Present day Health & Safety enforcers would have had a fit had they seen the chemicals that were used (silver nitrate and potassium cyanide) and the lack of protective clothing – no gloves or goggles, just a smock!
As National Service was still in place, Alan had hoped to become a reconnaissance photographer but despite his training he was informed he was to become an RAF nurse and so spent two years on a cancer ward at Uxbridge Hospital even though he began with no medical training.
Various jobs followed and Alan found himself in South Africa where he met his wife Jeanette and after spending 34 years in South Africa Alan retired and returned to the UK.
In the years since Alan started his career, printing and photograph developing has changed immensely.  We no longer have the nervous anticipation of taking our films in to be developed only to discover that only a few would make it to the photo album. Computers have taken over from the machines that would fill a room, tended to by a team of technicians. Even the most complicated flyers, pamphlets or magazines can now be produced on a laptop in a coffee shop!
Alan's talk only just scratched the surface of this interesting subject. A most enlightening, humorous and enjoyable talk.
May's meeting is on Thursday 3rd May and is our Annual General Meeting where new Committee Members will be elected. The meeting will be held as usual at 7.30pm in the Village Hall.
Visitors are always welcome. Further information  is available from Ashley Cutting on 01284 828264
Further details and lifts, if required, from JavaScript must be enabled to view this email.
Calendar of Events 2017-18
| Meeting date | Talk Title | Speaker Name |
| --- | --- | --- |
| 1st June 2017 | History & Future of the RNLI | Geoff Heathrock |
| 6th July 2017 | Friends & Foes in the garden | Karen Kenny |
| 3rd August 2017 | Lavenham walk & tea at Fran's | Fran Bradshaw |
| 7th September 2017 | Medical Detection Dogs | Norma Howell |
| 5th October 2017 | Humorous Etymologies | Anthony Poulton-Smith |
| 2nd November 2017 | Life of a Racehorse | Geoff Evans |
| 7th December 2017 | Cookery Demonstration | Richard Barr |
| 4th January 2018 | Members' Talents evening | |
| 1st February 2018 | 'My Life as a Registrar' | Yvonne Drake |
| 1st March 2018 | Sudbury Water Meadows | Adrian Walters |
| 5th April 2018 | The Printer's Darkroom | Alan Bardolulou |
| 3rd May 2018 | Annual Meeting, Resolutions & Social Time | |