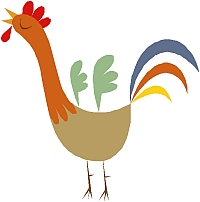 Cockfield WI is part of the Suffolk West Federation of WI's and is affiliated to the National Federation of Women's Institutes, NFWI, the largest women's organisation in the UK. Members come from Cockfield and several neighbouring villages.
Meetings are normally held on the first Thursday of the month in Cockfield village hall, and usually consist of a talk or demonstration on a variety of subjects. There is also time to hear about other WI events, and to share in a chat and refreshments. Other activities include craft and book groups, cycling and walking, and community events.
Adult education is also on offer at Denman College in Oxfordshire, the WI's own college. A huge range of courses are on offer, to both members and non-members.
Visitors are always welcome. Come and see what we have to offer.
For more information please email: JavaScript must be enabled to view this email
---
August Meeting Report

On a mild autumnal evening we welcomed Anthony Poulton-Smith who had travelled all the way from Tamworth in the West Midlands to speak to us about etymology – which means the true sense of words and their history.
Our President, Brenda reported on the trips and activities from the last month including the fused glass workshop and those we still have to look forward to; lunches, walks, quizzes, ten pin bowling and vegetarian cookery workshops to name just a few.
Business concluded we settled down to learn about the interesting subject of words and where they come from and how they've evolved.
Anthony has been fascinated by words from a very early age and has researched a wide and varied selection, some of which he shared with us. He spends a lot of time researching and investigating where some of the words in our rich language come from. He informed us that words developed from grunts originally and as man progressed, so did the language and then it simply evolved when it became necessary to write for trading purposes. The very earliest known language was called Proto-Indo European. English was brought across by the Saxons and evolved into Old English and these are still the most common words in the English language. Today we use euphemisms to mean something else, for example "wicked" meaning "cool". Another interesting example was 'mortgage' which literally means 'death pledge'. No comment!!
Anthony gave us numerous examples of word derivations and members were given the opportunity to ask him questions following his talk. He explained that he uses the Oxford English dictionary as a starting point and then this develops using other reference books and online sources.
As words will continue to change in both meaning and usage, the English language will evolve and grow into an even more complex and fascinating subject.
At November's meeting, we will be joined by Geoff Evans who will be talking about the 'Life of a Racehorse'. This will be on Thursday 2nd November 2017 at 7.30pm in the Village Hall. Please contact Ashley Cutting on 828264 for further information.
 Further details and lifts, if required, from JavaScript must be enabled to view this email.
Calendar of Events 2017-18
| Meeting date | Talk Title | Speaker Name |
| --- | --- | --- |
| 1st June 2017 | History & Future of the RNLI | Geoff Heathrock |
| 6th July 2017 | Friends & Foes in the garden | Karen Kenny |
| 3rd August 2017 | Lavenham walk & tea at Fran's | Fran Bradshaw |
| 7th September 2017 | Medical Detection Dogs | Norma Howell |
| 5th October 2017 | Humorous Etymologies | Anthony Poulton-Smith |
| 2nd November 2017 | Life of a Racehorse | Geoff Evans |
| 7th December 2017 | Cookery Demonstration | Richard Barr |
| 4th January 2018 | Members' Talents evening | |
| 1st February 2018 | The Doxa Project | Ray Balmer |
| 1st March 2018 | Sudbury Water Meadows | Adrian Walters |
| 5th April 2018 | The Printer's Darkroom | Alan Bardolulou |
| 3rd May 2018 | Annual Meeting, Resolutions & Social Time | |