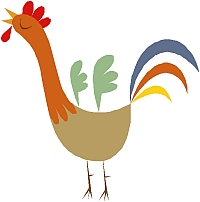 Cockfield WI is part of the Suffolk West Federation of WI's and is affiliated to the National Federation of Women's Institutes, NFWI, the largest women's organisation in the UK. Members come from Cockfield and several neighbouring villages.
Meetings are normally held on the first Thursday of the month in Cockfield village hall, and usually consist of a talk or demonstration on a variety of subjects. There is also time to hear about other WI events, and to share in a chat and refreshments. Other activities include craft and book groups, cycling and walking, and community events.
Adult education is also on offer at Denman College in Oxfordshire, the WI's own college. A huge range of courses are on offer, to both members and non-members.
Visitors are always welcome. Come and see what we have to offer.
For more information please email: JavaScript must be enabled to view this email
---
August Meeting Report

Our August meeting took the form of a Garden Party held in the Lavenham garden of one of our members, Fran Bradshaw.  Fran is also a tour guide in Lavenham so prior to the meeting a group of willing ladies assembled in the Market Square in Lavenham for an hour long guided walk around the historic town.  Fran was an excellent guide and told us so much history about the Guildhall and many of the other ancient buildings in Lavenham.  We learnt about the prosperity of Lavenham with the cloth trade when wool and dye was imported to be made into garments but unfortunately this declined and Lavenham became very poor. It is now a thriving town because of its history and tourism.  Fran is very passionate about Lavenham and this certainly came across in her talk.
Following the guided walk, we all proceeded to Fran's home to meet up with a few more members who had been unable to join us for the walk. There we had a short business meeting in her garden. Delicious refreshments were provided by the catering committee and although there were a few spots of rain we were able to sit outside and enjoy Fran's lovely secluded garden.  We then had a jigsaw game when each member had a piece of the jigsaw and had to find the other members who had pieces to match.  This was a good way of chatting to new members as we then made teams for a "treasure" hunt in the garden locating kitchen utensils!  Some of us had difficulty knowing what the items were but it was great fun and a very enjoyable end to a lovely evening.
At September's meeting, we will be joined by Norma Howell who will be talking about Medical Detection Dogs. This will be on Thursday 7th September 2017 at 7.30pm in the Village Hall. Please contact Ashley Cutting on 828264 for further information.
 Further details and lifts, if required, from JavaScript must be enabled to view this email.
Calendar of Events 2017-18
| Meeting date | Talk Title | Speaker Name |
| --- | --- | --- |
| 1st June 2017 | History & Future of the RNLI | Geoff Heathrock |
| 6th July 2017 | Friends & Foes in the garden | Karen Kenny |
| 3rd August 2017 | Lavenham walk & tea at Fran's | Fran Bradshaw |
| 7th September 2017 | Medical Detection Dogs | Norma Howell |
| 5th October 2017 | Humorous Etymologies | Anthony Poulton-Smith |
| 2nd November 2017 | Life of a Racehorse | Geoff Evans |
| 7th December 2017 | Cookery Demonstration | Richard Barr |
| 4th January 2018 | Members' Talents evening | |
| 1st February 2018 | The Doxa Project | Ray Balmer |
| 1st March 2018 | Sudbury Water Meadows | Adrian Walters |
| 5th April 2018 | The Printer's Darkroom | Alan Bardolulou |
| 3rd May 2018 | Annual Meeting, Resolutions & Social Time | |