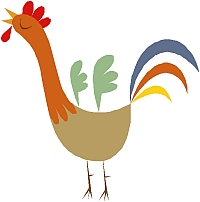 Cockfield WI is part of the Suffolk West Federation of WI's and is affiliated to the National Federation of Women's Institutes, NFWI, the largest women's organisation in the UK. Members come from Cockfield and several neighbouring villages.
Meetings are normally held on the first Thursday of the month in Cockfield village hall, and usually consist of a talk or demonstration on a variety of subjects. There is also time to hear about other WI events, and to share in a chat and refreshments. Other activities include craft and book groups, cycling and walking, and community events.
Adult education is also on offer at Denman College in Oxfordshire, the WI's own college. A huge range of courses are on offer, to both members and non-members.
Visitors are always welcome. Come and see what we have to offer.
For more information please email: JavaScript must be enabled to view this email
---
May Meeting Report

May is our Annual Meeting month so as there wasn't a speaker, we organised things a little differently. After a vote, we are delighted that Brenda Dyer has agreed to be our President for another year and following discussions and welcoming our new Committee members, we discussed our two proposed Resolutions; 'Loneliness' and 'Plastic Soup' (microfibres in our oceans). Our delegate will vote on our behalf at our National Annual Meeting in June and report back in due course.
As we hope summer is just around the corner, we have plenty of trips, outings and club activities planned. We've had a busy year as our Secretary and President's reports confirmed. As well as the ongoing regular get togethers for book club, craft, canasta, to name just a few, we've had trips to gardens, Thursford Christmas Extravaganza, the ballet, workshops, walks, lunches – we're a very active WI and we have a wide range of events and outings planned for our members.
We started an 'All Welcome' coffee morning at the beginning of the year which is held in the village hall, (advertised in Green Links).  This is open to all the village, men and women, so do join us and bring a friend or two – we look forward to seeing some new faces.
WI is still relevant to today's women and our thriving group will be 90 years old in 2019, which is testament to that! New members are always very welcome and there's plenty to get involved with and something for everyone.
At June's meeting, we will be joined by Geoff Heathcock who will be giving his talk about the History and Future of the RNLI. Our next meeting is on Thursday 1st June 2017 at 7.30pm in the Village Hall. Please contact Brenda Dyer on 828749 for information.
Further details and lifts, if required, from JavaScript must be enabled to view this email.
Calendar of Events 2016-17
| Meeting date | Talk Title | Speaker Name |
| --- | --- | --- |
| 2nd June 2016 | Thai cooking demonstration and tasting | Mrs Siri Sang |
| 7th July 2016 | Garden Visit to Water End Cottage in Cockfield | Garden Meeting |
| 4th August 2016 | Silk from China to Sudbury | Richard Humphries |
| 1st September 2016 | Illustrating Childrens' Books | Cee Biscoe |
| 6th October 2016 | Fingerprinting | Dave Smith |
| 3rd November 2016 | Heavenly Bodies | Derek Langley |
| 1st December 2016 | Britain's Finest Hour. This will be an open meeting. | Joyce Kimber |
| 5th January 2017 | Boom & Bust in Medieval Lavenham | Jane Gosling |
| 2nd February 2017 | How I Became A "Bake Off" Finalist | Richard "The Builder" Burr |
| 2nd March 2017 | Yarn about Yarn - History of knitting and yarn | Becky Poynter |
| 6th April 2017 | The Jubilee Sailing Trust | Colin Wilkinson |
| 4th May 2017 | AGM | |