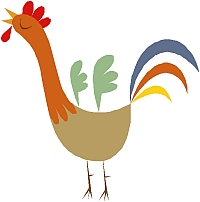 Cockfield WI is part of the Suffolk West Federation of WI's and is affiliated to the National Federation of Women's Institutes, NFWI, the largest women's organisation in the UK. Members come from Cockfield and several neighbouring villages.
Meetings are normally held on the first Thursday of the month in Cockfield village hall, and usually consist of a talk or demonstration on a variety of subjects. There is also time to hear about other WI events, and to share in a chat and refreshments. Other activities include craft and book groups, cycling and walking, and community events.
Adult education is also on offer at Denman College in Oxfordshire, the WI's own college. A huge range of courses are on offer, to both members and non-members.
Visitors are always welcome. Come and see what we have to offer.
For more information please email: JavaScript must be enabled to view this email
---
April Meeting Report

For the April meeting we welcomed visitors and some new members and discussed upcoming events and trips. The trip along the River Stour to the Henny Swan for some light riparian refreshment planned for August is proving very popular and a waiting list has been implemented. More workshops and walks are planned both locally and further afield. Our delegate, Sylvia, provided an excellent, informative snapshot of her visit to the AGM in March.
Our speaker was Colin Wilkinson who had come along to talk us about the invaluable work of The Jubilee Sailing Trust. Their aim is to bring able-bodied and physically handicapped people together to sail tall ships. The charity was started in the 1970s by Christopher Rudd and with a donation from the Queen's Silver Jubilee fund, The Jubilee Sailing Trust was established in 1978.
Quote from the JST website 'The Jubilee Sailing Trust's aim is to integrate men and women of all abilities through the challenge and adventure of Tall Ship Sailing. We want to break down barriers and correct misconceptions around disability. We allow people to challenge their own perceptions and prejudices and our voyages enable people to push the boundaries and open themselves up to new opportunities'.
The Trust's two ships, Lord Nelson and Tenacious, are the only tall ships in the world designed to be sailed by a crew with widely varied physical abilities. Every aspect of life aboard ship is available to all, from setting the sails, going aloft and helming the ship.
Back in May 1998 I was lucky enough to see the Lord Nelson arrive in Wivenhoe, Essex. A beautifully crafted vessel which has provided (and continues to provide) a wonderful experience of sailing and teamwork for people from all walks of life regardless of background. I still have the photos of this little piece of sailing history.
Among the wealth of additional features found on board both ships are: wide decks for ease of movement; lifts between deck levels; power-assisted steering and other assisted-steering devices; signage in braille and under-pillow vibrator pads to alert the hard of hearing; guidance tracks, tactile stair strips and raised directional arrows on handrails. Manned by a mixed ability crew of 40, both ships head to destinations as far away as Australia or the Caribbean. A day's sailing is also an option if you would prefer to ease yourself in slowly!
Since the charity started, over 40,000 people have sailed with the Jubilee Sailing Trust. Over 28,000 of those have been on Lord Nelson, which was launched in 1986 and 13,000 have sailed on Tenacious which was launched in 2000 – the largest wooden hulled tall ship of her type to be made since the end of the 19th century.
Sailors and non-sailors alike can benefit from this fantastic opportunity – a chance to be part of a crew of a stunning tall ship!
May's meeting is our AGM and will be held on Thursday 4th May 2017 at 7.30pm in the Village Hall. Please contact Sue Cole on 828212 for information.
Further details and lifts, if required, from JavaScript must be enabled to view this email.
Calendar of Events 2016-17
| Meeting date | Talk Title | Speaker Name |
| --- | --- | --- |
| 2nd June 2016 | Thai cooking demonstration and tasting | Mrs Siri Sang |
| 7th July 2016 | Garden Visit to Water End Cottage in Cockfield | Garden Meeting |
| 4th August 2016 | Silk from China to Sudbury | Richard Humphries |
| 1st September 2016 | Illustrating Childrens' Books | Cee Biscoe |
| 6th October 2016 | Fingerprinting | Dave Smith |
| 3rd November 2016 | Heavenly Bodies | Derek Langley |
| 1st December 2016 | Britain's Finest Hour. This will be an open meeting. | Joyce Kimber |
| 5th January 2017 | Boom & Bust in Medieval Lavenham | Jane Gosling |
| 2nd February 2017 | How I Became A "Bake Off" Finalist | Richard "The Builder" Burr |
| 2nd March 2017 | Yarn about Yarn - History of knitting and yarn | Becky Poynter |
| 6th April 2017 | The Jubilee Sailing Trust | Colin Wilkinson |
| 4th May 2017 | AGM | |