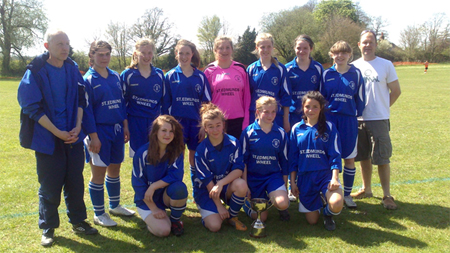 Lawshall Cockfield Girls Football Club is a local organisation based in the Cockfield area that provides a fun and successful team for the local girls to participate in. Many of our girls travel from as far as Sudbury and Bury St Edmunds to be part of our team that trains in Cockfield on a frequent basis.
We participate in the U16 Suffolk league which means that for most of our away games we have to travel all over Suffolk to face other teams across the County. We are doing extremely well this season 2013/14 and currently have an unbeaten run in the cup and the league, so are therefore doing extremely well this season.
Last season, we managed to win both the cup and the league titles which is a big achievement for such a determined team. Our home games are played at Cockfield and the Mums and Dads provide teas coffees and cakes for all our supporters using the Pavilion facilities. The money raised from selling refreshments is then put towards new kit, equipment or our end of season parties or meals which are always a laugh! Our games last 45minutes per half and we play on a ¾ sized pitch with 11 players.
Sometimes we struggle getting enough players to make it to our matches so we always welcome new girls to join the team.
If you are interested in joining, or just want to find out more please email JavaScript must be enabled to view this email