Cockfield Rainfall 2015-16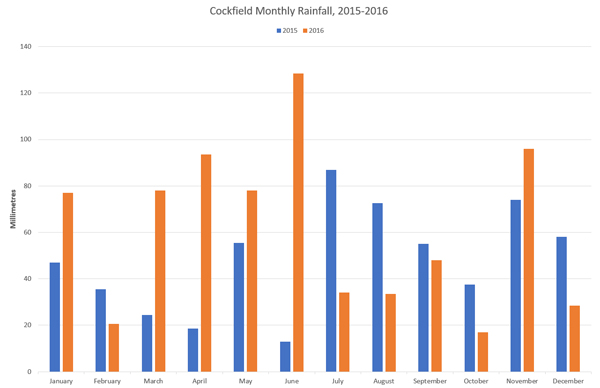 Worthy of note, the first half of 2016 was very wet with summer not arriving until about mid July, then rain became scarcer until November that proved to be wetter than the corresponding  month in 2015.
Spring was cool with April nearly hitting 100 mm (22 mm or just under an inch fell on the 14th in under 2 hours) and June surpassing the 100 mm level, reaching 128.5 mm or 5.06 inches. June saw several single rainy days when nearly an inch of rain fell in 24 hours.
Overall, 2016 was wetter than 2015 by 154.4 mm or 6.08 inches and was above the 10 year average as shown for figures for nearby Wattisham by 105.6 mm or 4.16 inches) and again the first half of the year unusually wetter.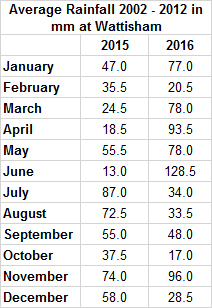 Please note these measurements are not to be regarded as definitive and are for guidance only.